When Phil & Brady came to see us, they were fed up…
They had worked with an architect years ago, but after budget issues the project was canned.  So for their block of land in the inner city suburb of Albion, they started working with a volume builder and their drafting team hoping for a more streamlined service.
After months of work and feeling like they didn't have the right solution for their block, they came to us in a bid to design a home that sat more comfortably with the land and took advantage of the light, breezes and views that this site presented.  They also wanted something unique – something that spoke to the charm of Spanish Mission (which they loved) without being kitsch in its interpretation.  The home was for the long term – a vibrant, design focussed couple who love to entertain – they wanted this home to create a light, creative and beautiful space to live and work.
The design process is one of moving from unknowns to knowns.  Our experience is that people who remain open to possibility gain an enormous amount from the process, whereas people who approach the process with a fixed mindset limit the outcomes.  To help coach our clients through this process, we've broken it down into 9 key steps.  If you haven't worked with an architect before, or if you're just interested in how we do things, then this case study is for you!
1. Kick Off
In our Kick Off phase, we assess your site, get all your ducks in a row for the project.  We look at the site – what views, passive design principals, privacy & aspect can be achieved.  We review the town planning requirements and ensure you have a detailed list of all the consultants your project will require.
Every project kicks off in words rather than drawings.  We run a design workshop with you to discuss design, budget and opportunities.  We explore what is possible, what works for the chosen site and how any issues can be addressed.  Importantly at this stage, we return your brief back to you in words and ensure that you feel heard & seen before we dive into any detailed design work.
For Phil & Brady, some of the awesome parts of their brief were summarised as follows:
• Create a French Bistro inspired interior with contemporary style kitchen – bar – coffee station & french inspired feature pendant lighting
• Creat a comfortable, human, soft interior with drapery & a play on volume & scale
• Introduce texture & patina with mosaic textured tiling, pressed metal island bench & lean on aged materials in loose furniture
• Layer your home with personality & quirk with artwork & styling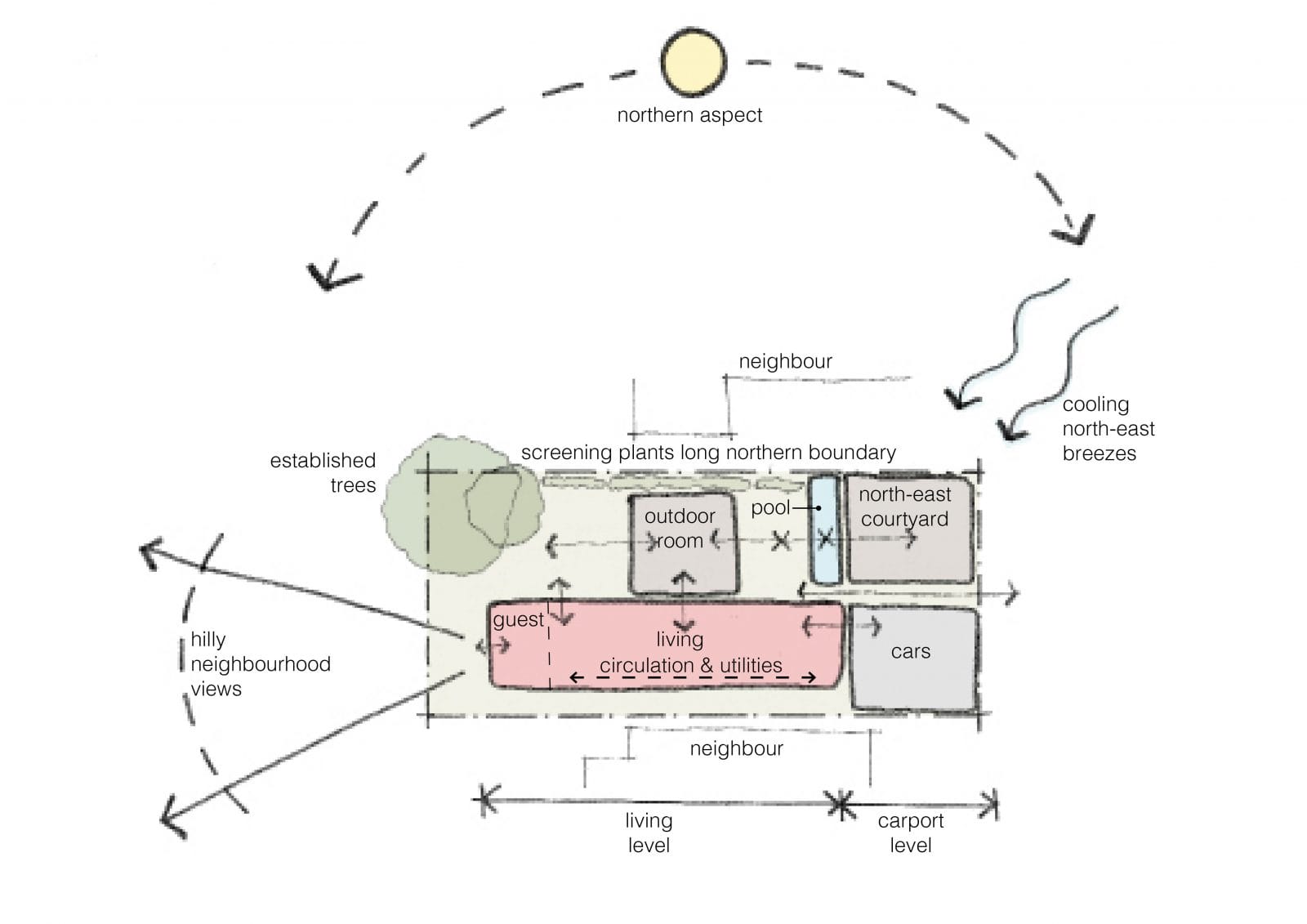 2. Concept Design
Guided by the workshop and brief, we bring your ideas to life through plans, elevations and 3D views. This stage focuses on the big picture, including aspect, views, connection to landscape and environmentally sensitive design.
In Phil & Brady's project, the ideas about Spanish Mission, converted into a home that drew on the idea of a 'colonnade' to interpret this tradition in a modern way.  To save space, corridors were removed from the plan, and instead the home is a series of open spaces linked by external walkways.  There is no 'front door'.  Upon arrival, you step into an open, sunken outdoor lounge that is generously connected to its living spaces.
During Concept Design, we stay 'zoomed out' on the big picture – we're not too attached to materials or colours, we want to make sure your spaces, their organisation and their feel is spot on.  Concept Design is broken into two rounds moving from 'loose' design to a more resolved design by the end of Round 2.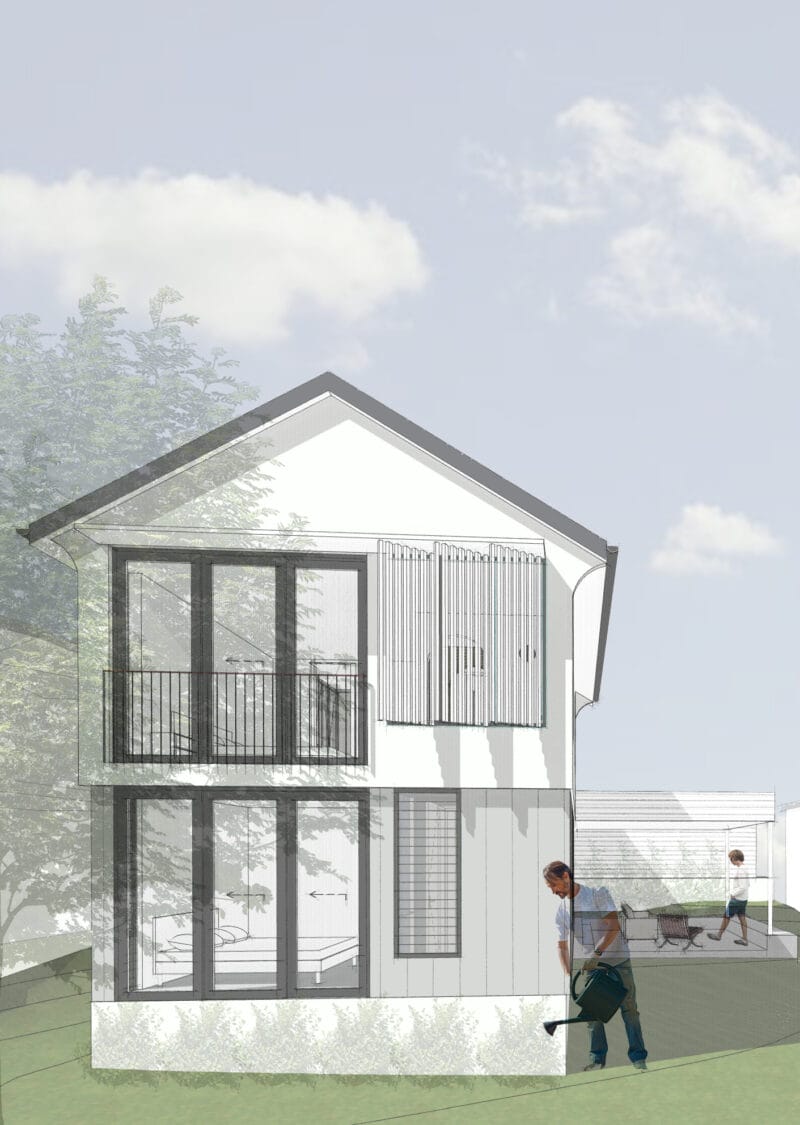 3. Concept Pricing
This stage of the design process is critical for ensuring your design goals are in alignment with your budget.  At this stage we talk to you about two procurement options – a Negotiated Tender with one builder, or a Traditional Tender with two to three builders.
Either way, at this stage we develop your drawings and define the scope of work attached to your project to a level of detail that allows a Quantity Surveyor to price the project.  Often at this stage, our clients elect to make savings from the design or they adjust the budget to the revised opinion of cost.  This stage is about giving you options and ensuring that after months of work and professional fees, you don't feel painted into a corner on your project budget.
Our clients love that this stage puts them in the drivers seat where it comes to the project budget and removes surprises from the design process.  For Phil & Brady, this stage of the project allowed them to make some savings, talk with their bank, and adjust their budget up by 15% to get what they wanted.  Some items – including the carport & pool – were designed but left aside for a future stage of construction.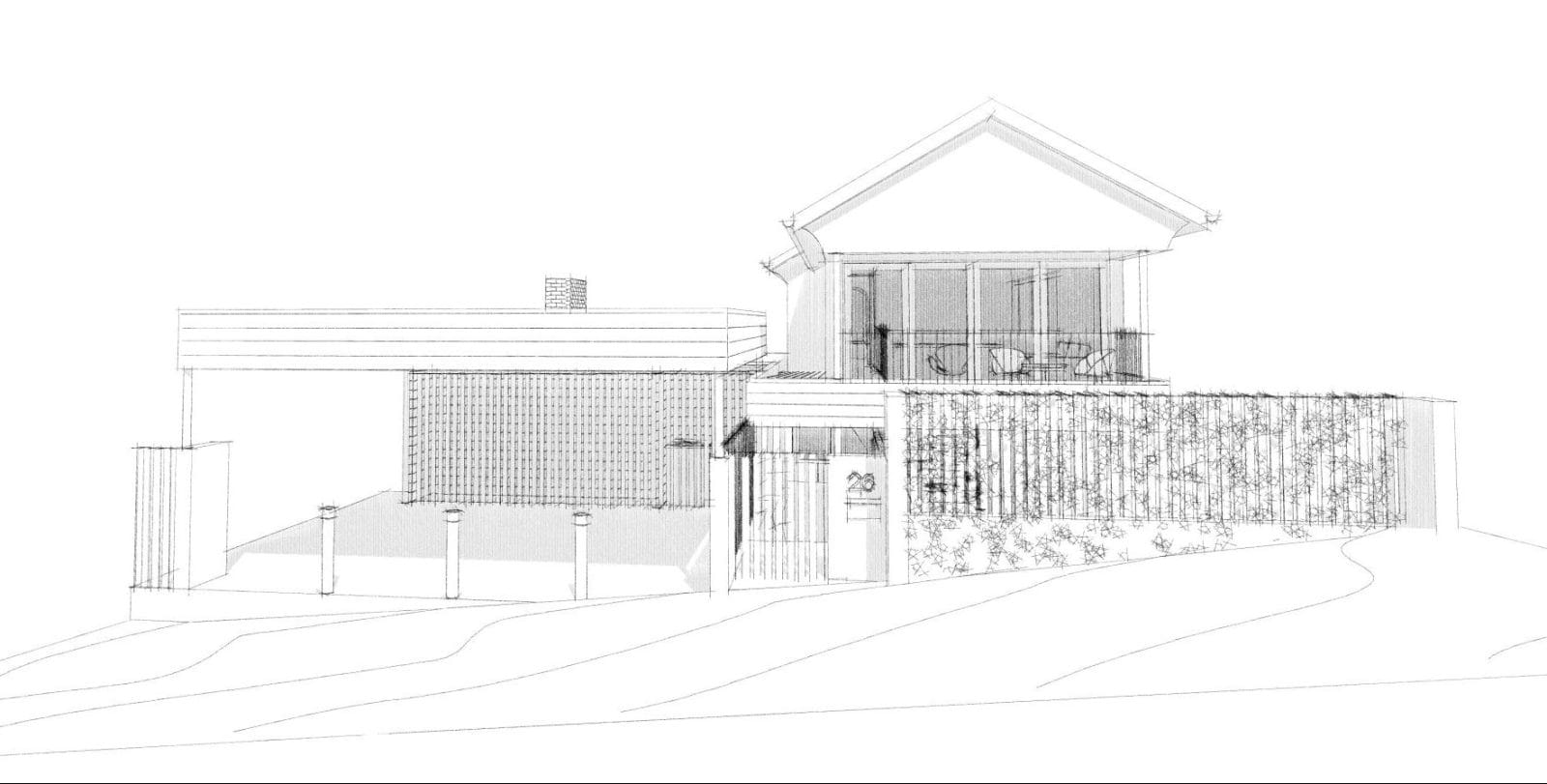 4. Development Application
Working with your Town Planner, we co-ordinate a set of drawings to submit your scheme to Council.  During this period, we provide additional drawings as required by Council's Requests for Information (RFI's).  The Development Application process generally takes 8-12 weeks and during this time, we can advance your project (if we feel confident about the project budget & likely approval) or we put our pens down wait until you receive your Development Approval.
In order to get Phil & Brady's approval, we had to adjust some key aspects of the design – hence the name 'same same but different house'!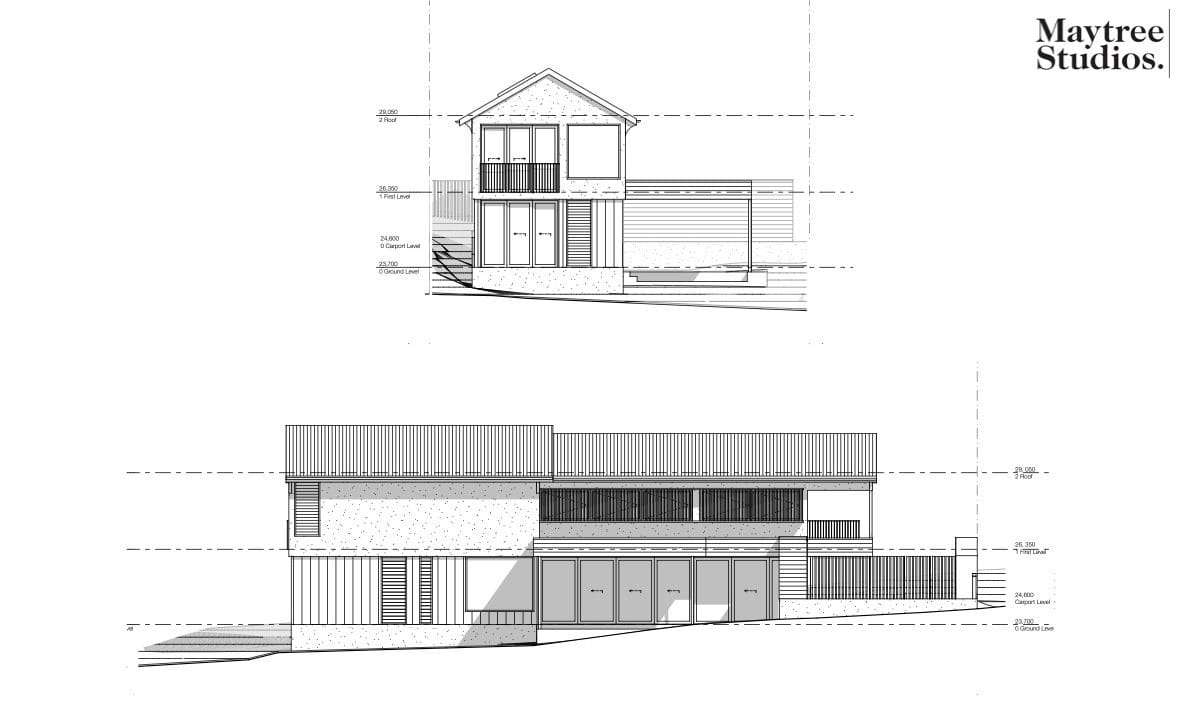 5. Detailed Design
In this phase, we translate the concept into a resolved set of documentation that addresses both the aesthetic and functional elements of your home, such as windows, doors, finishes and most importantly, the interiors and cabinetry that make your house a home! We zoom in to really fine-tune the design, working with you to reflect the way you live and work.
Masculine colour blocking & an exercise of bold form making inspired the interior development of this home.  Given Phil & Brady's love for hospitality and entertaining, the interior is voluminous and light filled, a great backdrop to their aspirational art collection with a unique take on a traditional home.
The drawings at this stage are about functionality – how you use the space, and aesthetic – what it looks like.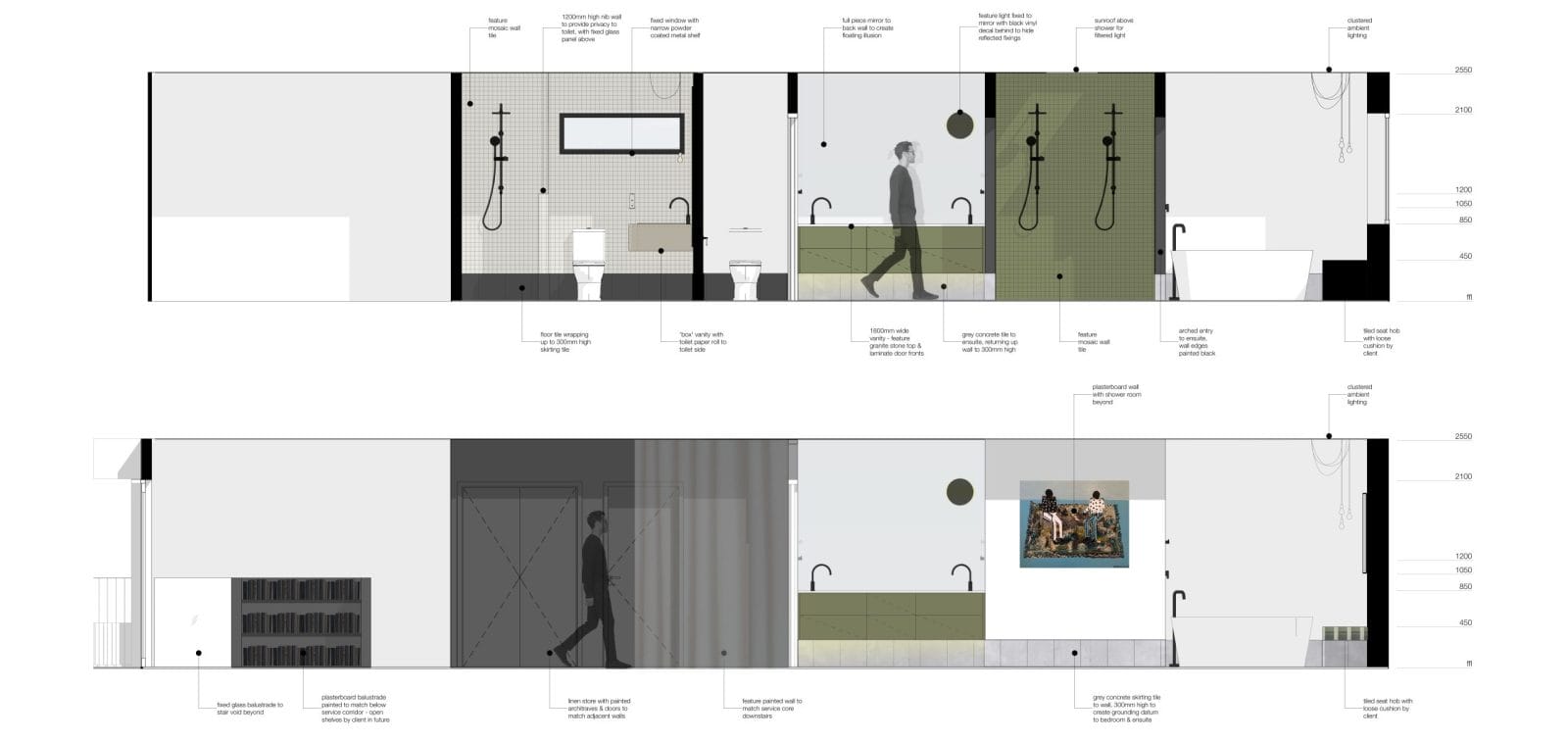 6. Tender
This stage of the design process allows you to lock in your preferred builder with a signed building contract.
With the design and specifications 80% complete, we work with the builder and yourself to value engineer the final contract price to meet the level of finish you expect & budget.  We set up a 'shopping list' of items we see as potential cost savings – from low hanging fruit to more difficult decisions or compromises.
7. Construction Drawings
Once all the major design decisions have been made, we finalise the drawings so that you can have your final building contract price prepared and your building approval lodged. Your cohesive set of drawings and schedules also ensure that your chosen contractor can realise the vision for your home.  We spend a lot of time getting this stage right and the result is extraordinarily low variations and changes during your build.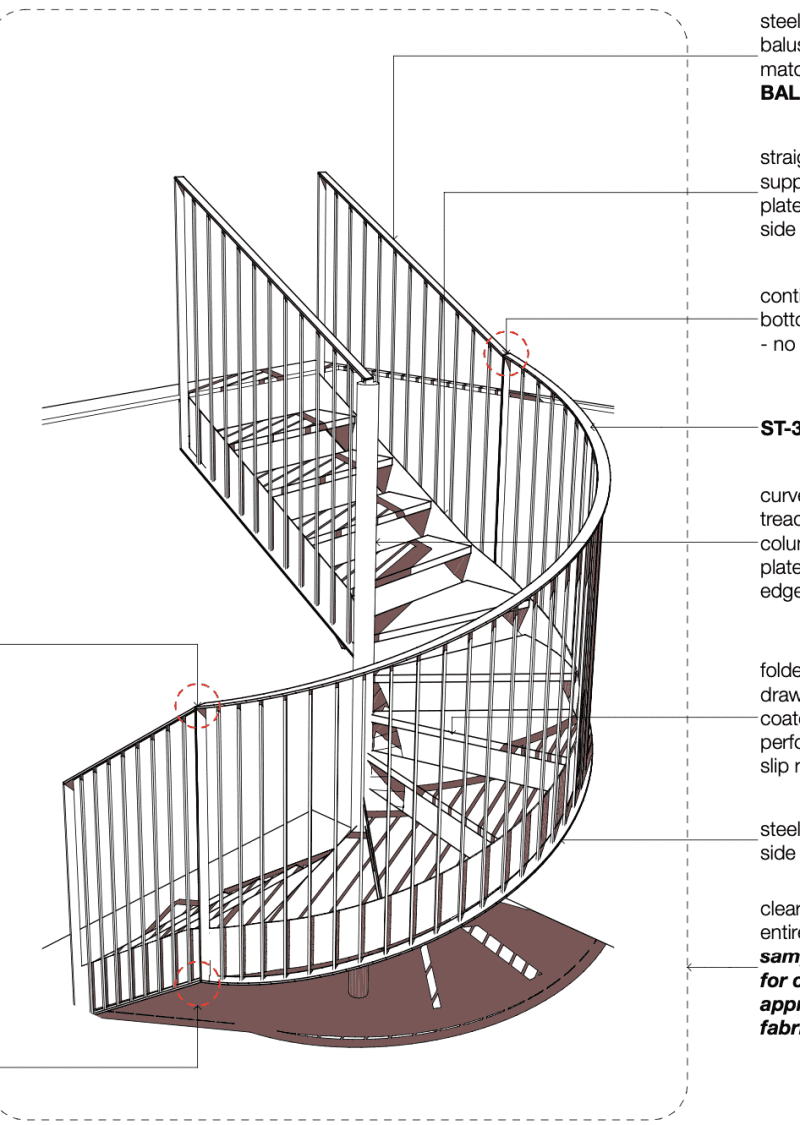 8. Contract Signing
You have your drawings, you have your contract price and you are ready to sign a contract. At this stage we are advising you on the contract and its clauses, ensuring your builder has all his ducks in a row including insurances & approvals and organising the release of your building approval.  We also finalise your drawing package to include any final drawing changes required by you, the consultant team or the builder.  And of course, at this stage we have you and your builder over for champagne (or beer) in the courtyard to celebrate the beginning of an exciting stage!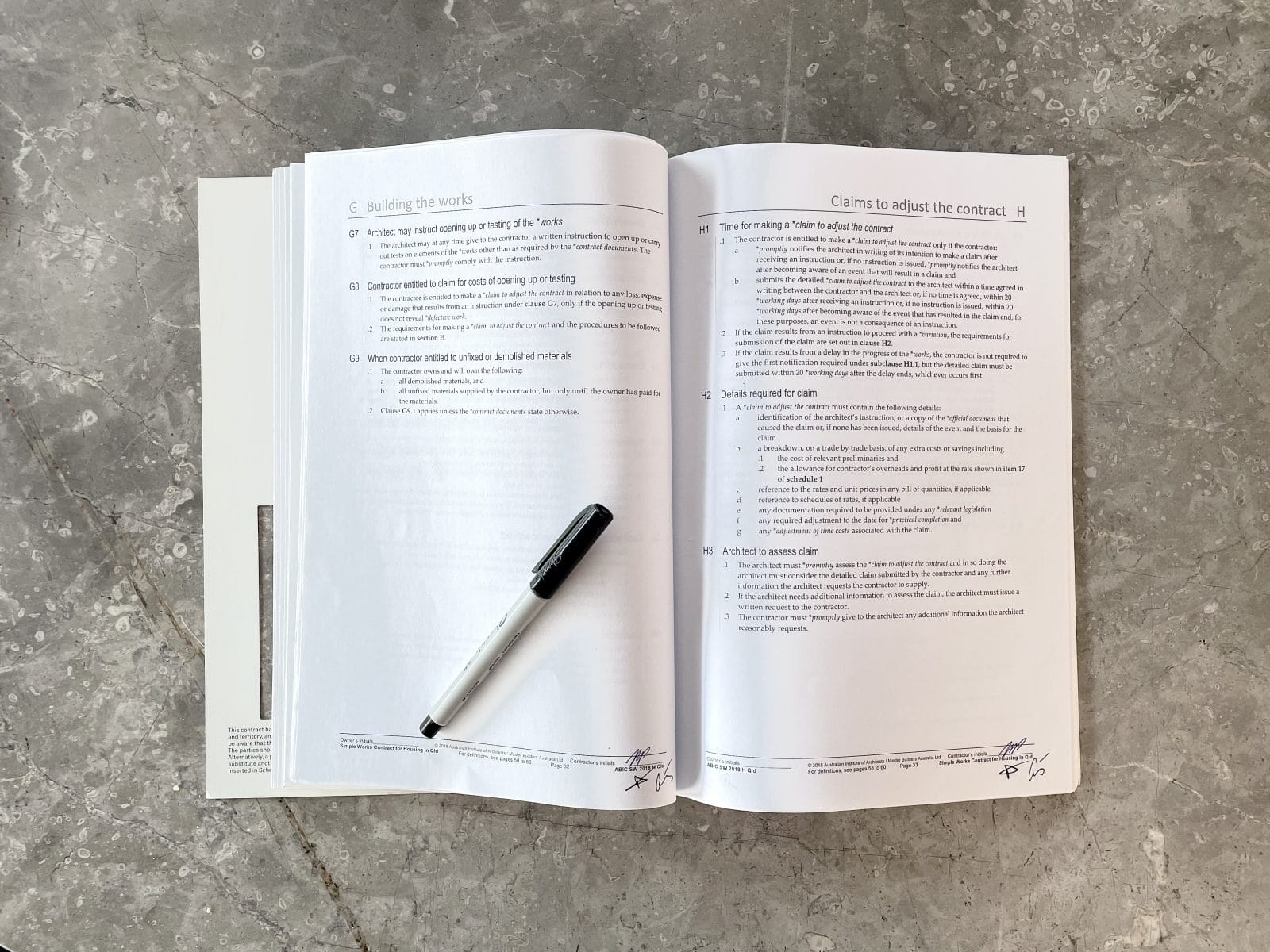 9. Construction
During the build, we visit the site fortnightly and weekly depending on what is happening on site.  No design is complete, and a collaborative relationship between us, your builder and yourself ensures that you get the very best outcome.  The kinds of decisions that get made are how to finish junctions, heights of lights, final locations of switches, and any upgrades you decide on.
We are working closely with Allen Brothers and Phil & Brady to assist them during their build.  Key decision making for them has been the finishes for the joinery, the final detail of the steel stair and the finish for their polished concrete slab.  Having us on board, means these decisions are simple – we do the hard work & research and you can inform the process as much as you have the time and capacity for!