Tell us about yourself and Eclat Building Company.
Eclat has been running for 6 years. I started off just doing a lot of the stuff myself and as we organically grew we started to branch out and increase our workforce. But we have always been focused on doing work we  enjoy doing and targeting clients and architects that we genuinely want to work with. We are a very detail orientated business where we actually want to create a beautiful home for clients. We sometimes go too far above and beyond to make sure that happens but I think that it's always beneficial for the job in the end because it's those little details that make the job.
At the moment we have myself, who does operations and day-to-day running of the business, two full time carpenters, a second year apprentice, and a new first year apprentice. All very detail oriented guys, who have excelled in what they have done. I am very selective about who I bring onto the team because it has to be the right fit.
Our project sizes float anywhere between 300K-1mil at the moment. Per annum we take on around 4-5 projects. We also have a lot of repeat clients so we won't turn our nose up at a bathroom or kitchen reno. I find there is always time to fit them in on the way.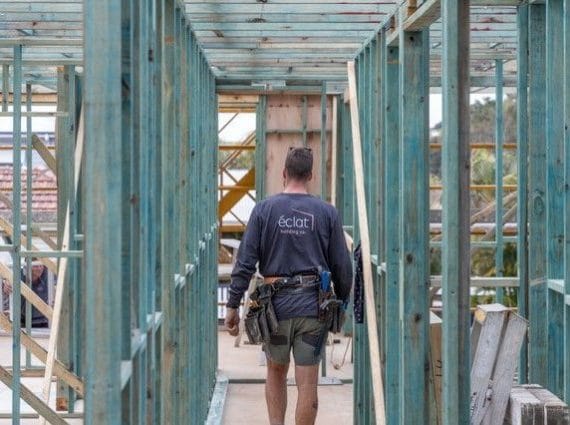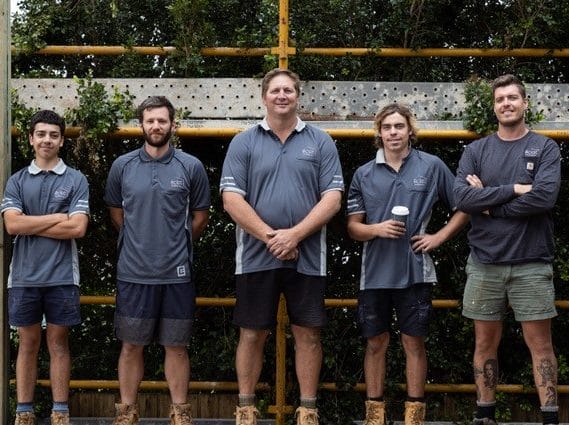 What is the thing you wish your clients all knew before they started talking to a builder?
The biggest thing is understanding what they're getting for their money. You've got clients that are making the biggest investment of their life. There is a lot of trust within documenting as best as you possibly can for your clients within plans and specifications. But at the end of the day the client doesn't actually know what they're getting until they see it on site and it's up on a wall or it's installed or the lights are on for the first time. A lot of clients like to touch and feel and see exactly what it's going to be. They don't truly understand the experience of their home in the same way that you and I see it right from the very start of a concept stage. You can provide as much information and experience in the concept and planning stage as you can but I don't think it's truly until that handover where they understand.
Talk us through the process you had with our Millwood St project, in which we were not involved in the project management.
On certain projects it's important that architects are involved. We are lucky that we did understand the plans for Millwood St well enough to execute it to the best of our abilities. I think that having the experience within our team as well also allowed us to just take the lead and say 'this is how we're going to do it', and sort of be a bit creative in that sense to execute it. But I think that if there's an opportunity where the architect can be involved on complex projects it's always nice to have that buffer there, to bounce ideas off, or be able to have them onsite.  And it might be good for the project too, because you guys might get onsite and say 'look, we're actually not liking how we've drawn that or how that's been designed'.
Often, on site, we want to make small changes or pick up on missed opportunities. This is where having a relationship with the site supervisor and architect is important.
Having as much input as you can have on a project is really, really good. As they say, 'many hands make light work'. It is really important to have the designers on board. If you look at it, even in other industries, like you guys are considered specialists, we are considered specialists. You're always going to go to your specialist for the best possible advice that you can get. You're not just going to go to a backyard guy and let it happen. So I think that as many specialists as you can have involved in your project from start to finish, it's going to be better for you. You're going to get more value out of it at the end.
What was your favourite thing on Millwood St project?
I think I really liked the parent's (Jonathan and Christine) retreat area. They have a very hectic life. I think that to be able to detach from the day-to-day goings on of their family life is really lovely. I also really enjoy the outdoor room. Being a corner block, that connection to the street and even just the passersby is lovely. Being able to have that neighbourhood feel of people walking past with a dog and saying hi, and looking out towards the street connects the residents with the local neighbourhood.
What was the trickiest thing on Millwood St project?
The trickiest thing, I would say, would be probably making that outdoor room roof work. There were some pretty staunch structural members that had to interact with the existing roof. I think getting it all to work with the cladding types and flashings and all that sort of stuff was a bit of a tricky exercise, but it's just one of those things you just have to go slowly to work through things.
Having Andy come out that one day was really, really good. Because we sat down, we drew it up, we worked through it, measured it up, changed a few things, and said 'this is where this is going to sit'. But you didn't know that until you got there. So having that sort of onsite architectural input to come up with a solution of how it's all going to work was important.
To learn more about Eclat building co. head here
To see one of our Full Service projects, in which we have project managed, visit our Bramble Bachie Pad or GT Madhouse.