Tell us a bit about Five Mile Radius & the meaning behind the name?
Five Mile Radius, founded in 2016 by Clare Kennedy, is a collaborative group of architects, tradespeople and educators passionate about testing new ideas for Australia's built future.
Our team include; Clare Kennedy (Founder, Architect & Creative Director), Hunter Eccleston (Graduate Architect & Production Coordinator), Tom O'Shea (Architectural Coordinator) & Ellie Farrington (Carpentry Lead). 
The name was inspired by Mahatma Gandhi's philosophy around the environment where he encouraged people to build using materials found within five miles of their homes.
How did you come about working with 

Five Mile Radius? 
Clare was tutoring in my second year of university at QUT. She wasn't my tutor, but we started hanging out with a bunch of students on weekends at the Foundary in Red Hill, working on a building project, 'The Shed'.  
I went to Sri Lanka with Clare through uni for an internship and we did a hotel renovation job over there during 4th year.  
Half way through masters, I started to do this (waste terrazzo stuff) as an art project in the Botanic Gardens, which I then brought to 5 mile. We experimented with what we could make and then ended up making these and that's how I ended up running around Brisbane collecting concrete. 
Have you always been a 

hands on

 maker? 
I've always been hands on building things. Throughout uni I was working with bamboo. Me and my mate were running a thing called Bam-Built at QUT (Queensland University of Technology). It was part of a student run competition & we would go harvest the bamboo & then build things. Even through high school – I was always doing stuff. I never had a trade, but would figure it out & then do it.  
I didn't think I'd be concreting, but here we are. I am doing this not to just buy concrete and use it, I am doing this because I have seen so much concrete being wasted and we can do something about it. So that's where we are now and I am hoping for more bigger & broader stuff moving forward. The goal is to get this *the workshop* set up & ticking away so that we can focus on the bigger picture….one idea is social housing and the potential for recycling precast concrete.
I am doing this because I have seen so much concrete being wasted and we can do something about it.
Talk us through the process for making your terrazzo waste tables? 
We set up our formwork here (from recycled formwork where possible), we get a brief from our clients for what colour, finish & size then set up the formwork so we know how much concrete we will need. We use a bucket system to work out the quantity and then I'll just call my mate who is a local concrete contractor & find out what jobs he has on for the day and he gives us a list of sites to pick up the left over waste. We rush over to fetch it and then head straight back to the workshop and pour into our molds.  
We let the molds cure for a couple of days, remove it from the mold then send it to our local stone mason to hone, then we bring it back to our workshop, give it a final seal & then send it out.  
The terrazzo wastes are made up of off cuts of glass, bricks, anything recycled.  Mainly, we pick up the off cuts from local stone masons who have little pieces of exotic stones in a bin up for us, which we pick up at &the end of the month. Other manufacturers & suppliers drop off waste for us. We have a smashing station where we will smash up these off cuts and other materials like bricks etc.
We do often get people asking if they can use offcuts from site and we love that because of the reuse, but also the story of where the materials have come from I.e. old brick walls being reused for the aggregate mix.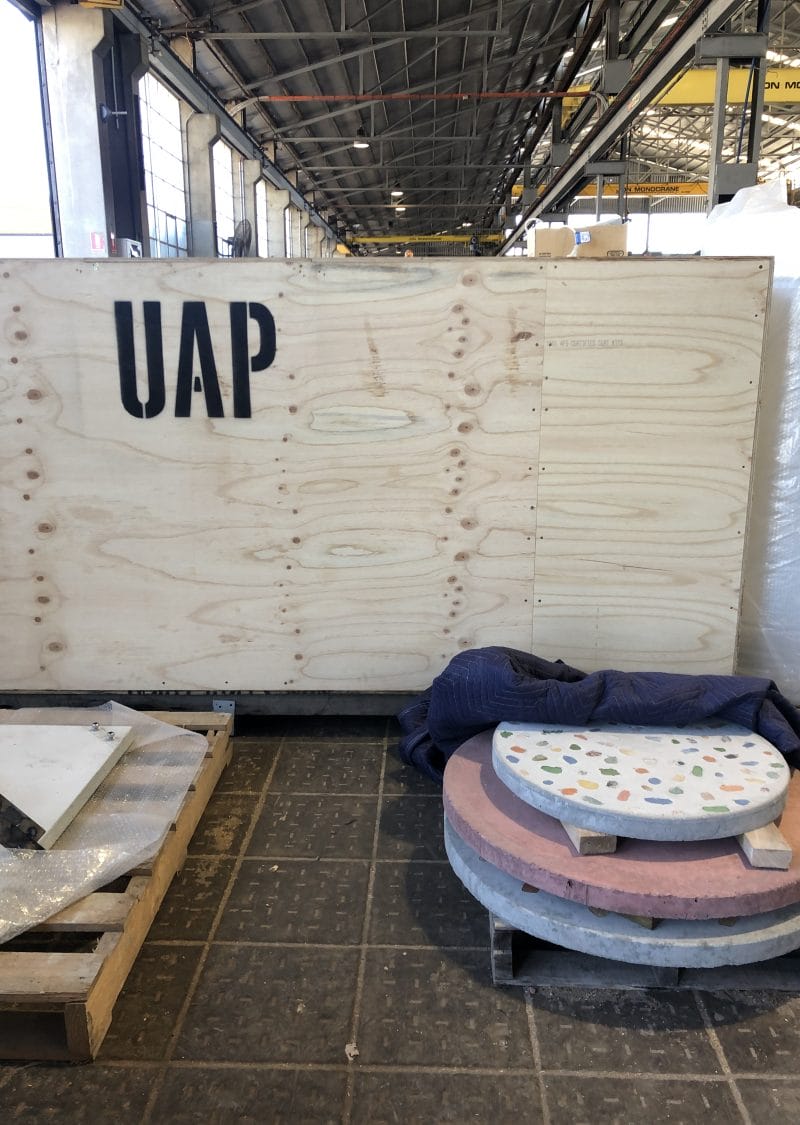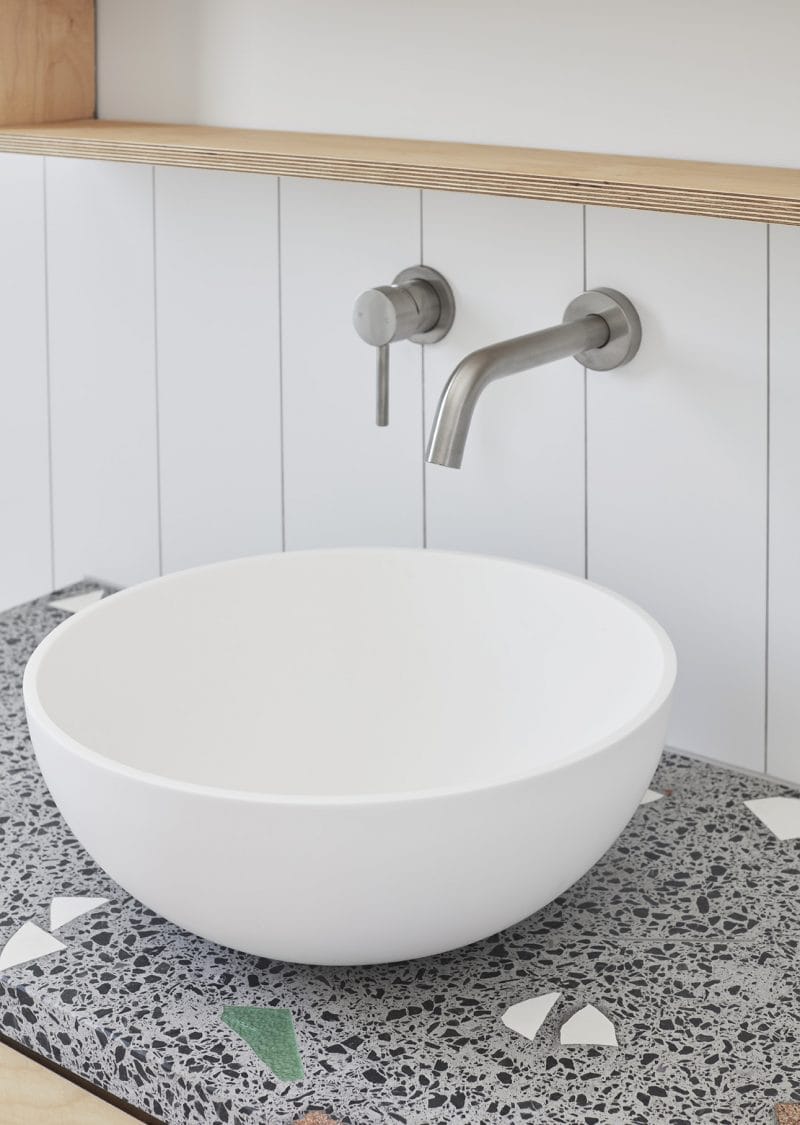 What is the process Five Mile Radius has for creating custom pieces for customers?
We start with dimensions & we will price it up based on a square metre rate. If it's a benchtop we just work out the slabs & cut outs. We will take a 50% deposit to get started and lead time is typically between 4 weeks or for a larger job up to 10 weeks (depends on how busy we are!)   
The other part of the customisation is selecting the aggregate mixes.  
We don't install but rather approach our projects as furniture designers, we supply the material & a cabinet maker or contractor would do the installation. 
Because we are using leftover concrete, we like to do it in batches. We have been suggesting that the larger slabs come as separate pieces, then are joined together on site. It may have a join line but we think this gives it character. This also considers the  production & transportation. The biggest installation we have done before was a boardroom table 3m x 1.2m long and took 15 guys!
As Consumers, what can we do as part of our role in reducing our waste?
It's about creating consumer based change. You can have government enforcement & top – down management but at the end of the day they will always be influenced by the demand. We all have to do our part & having an awareness.  It's the individual's responsibility.
Head on over to Five Mile Radius to learn more about their ethos & shop their inspiring range here.