Not going to lie to you here – budget management is the hardest part of our job.
That's because every client has a different budget and set of expectations. Everyone at the table (you and our team) wants to push the boundaries of what's possible when it comes to design, but then we have to pull back into Sensible Sally mode to manage the budget. If we aren't constantly striking this balance, it's easy for a project to quickly go beyond the cash you have set aside for your project.
That's why we're really open about how budget management works, because you shouldn't be afraid to discuss money (over and over and over again) with your architect. Oh and let's not overlook the fact that our industry has a terrible track record for talking about cost…
We aren't transparent with the public on how much the beautiful thing in the magazine cost to build.
We don't talk openly about the cost/m2 for each project (that's why we include this in every project we share).

 

We also don't talk about what the process looked like for the client with the pretty picture in the magazine… AKA what they compromised on or how far they stretched their budget to get the home built.
That means the pretty image – while wonderful – doesn't reflect the very complex process behind it! That process involves a lot of exploring, choosing where to save and where to splurge, and constantly weighing the budget against the must-have and nice-to-have elements of your new home.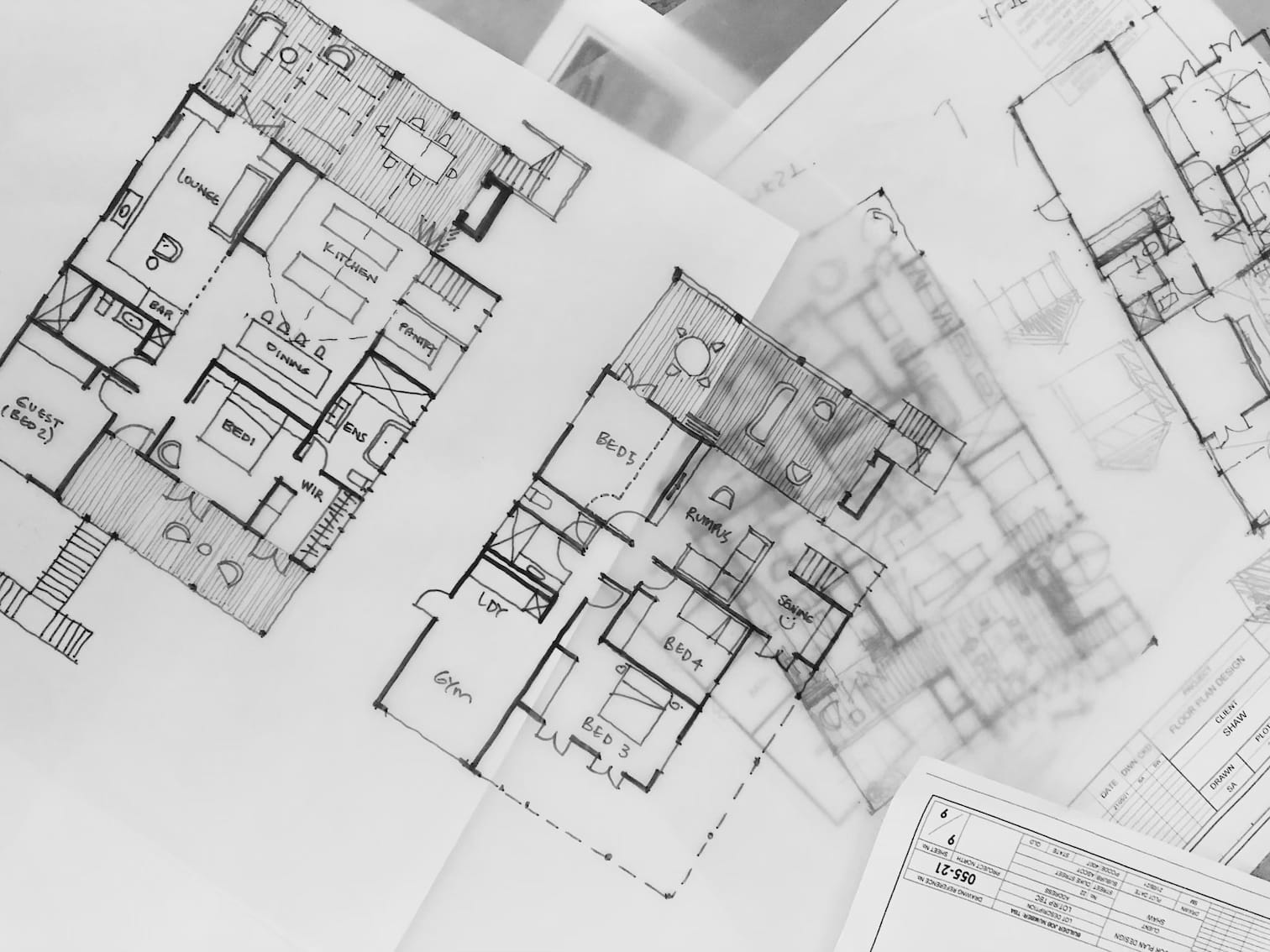 So are these projects going to get built? Or will we have to start again?
When we send clients an Opinion of Probable Cost, it comes at the end of Concept Design (that's step #3 below). This means the project hasn't progressed to a stage where the client feels they have to grin and bear it and just find the extra money. 
At this stage, other consultants and approvals have not been sought, so the client expenditure to date has been limited to our fees. For these clients, we are providing either a shopping list of savings or redesign services to get their preliminary price back to a comfortable place. Unless we've been asked to draw something we have repeatedly told the client isn't in their budget, we do these savings at our own cost. Their choices? Choose savings to reduce costs, adapt their budget to the new cost or pause until they can afford it.
To avoid ending up in this situation, the best thing you can do during a project is to keep an open mind about where the process will take you. If you can remain flexible, you will be better placed to make decisions that sit neatly between your wants and budget (and see any disappointments as opportunities). 
So to give you a better idea of what goes on behind the scenes of those pretty images in the magazines, here is how we test and qualify your budget at 7 key points of the design process. It's never a once-off discussion – we are constantly checking in with you about this! 
1. You come to us with your project 
We advise you on the likely costs of your new build or renovation in an initial briefing. We run you through a very basic Pre-design Estimate at this stage, which lists the rooms you're asking for, adds some percentage for circulation and multiplies that by a rate/m2 that's suitable for the complexity we think you're after.
This is a quick way to test your budget against what you're hoping to build and make some early calls early about how to proceed. Let's say you come to us with a $500k renovation budget and we estimate your project will cost $700k based on your wishlist – you might choose to increase your budget or stick to your budget knowing that we will only be able to do part of your project/wishlist. Either way, you have a clear understanding from day one about where to set your expectations. 
2. We ask what a successful project will look like for you
After the initial consultation, it's time for project kick-off. The first step before design is to further test and prod your budget by figuring out how fancy you want your project to be and arranging your values.
We ask you things like…
Does budget trump size and finish? 
Would you stage the pool to stay on budget? 
Those kinds of questions help us dive deeper into your budget and begin design knowing what you will and won't give up.
3. We design something awesome
Design is broken into two rounds – and at each you get an Opinion of Probable Cost. This is the most critical stage to get right and we have recently implemented a new piece of costing software called Procalc to verify our assumptions. This software provides a low, medium and high budget range, which is a great way to look at a project at this early stage.
The Concept Design process is really a tug and pull between what you want, pushing for something great and managing your budget. Once you see an Opinion of Probable Cost during design, you can figure out if your pool or your fifth bedroom are really that important! If you're happy with what you see, we move forward. 
4. A third-party cost consultant verifies the design
A consultant called a quantity surveyor provides a detailed break-down that includes appropriate allowances for contingency and cost escalation. While there can be a bit of 'fat' in these estimates, we love that this break-down helps to realistically manage expectations – both yours and ours!  
If savings are required, we create a shopping list of all the things you could pull back on to get the project where you want it to be. This might be a mix of reducing project complexity, pulling out some of the fancy stuff, or finding big-ticket items that can be staged so that your 'hero' project stays intact (see more on masterplanning and staging in this case study).
Basically, if you simply can't afford something you wanted us to design for you, there is never any pressure to move forward. We're with you until we reach a happy place budget-wise! Once we reach that happy place, we move forward again. 
5. We keep designing something awesome, and then we put it to tender
Once the big architectural decisions are made (like whether you keep the pool or the fifth bedroom), we design the interiors. This is called the Detailed Design phase, where the final pieces of the project come together and everything is specified. Inevitably some areas of the project may still grow as you see opportunity for things you hadn't before this stage, and this is openly discussed from a budget perspective (remember design is constant exploration and refinement).
The tender phase is usually completed after Detailed Design. Tender panels range from 1–3 builders, depending on your project. Once you've selected one, they form part of our team. Usually there is another shopping list step here where we sharpen the pencil again to keep your project on budget. We don't expect any budget shocks at this stage, as we have fully challenged, ratified and adjusted (if necessary) your budget at every step of the process through to Detailed Design.
6. Your builder informs the final stages of the design process 
The final step of the process is preparing construction drawings, and gaining approvals and final input from consultants. While this is happening, your builder is live pricing options, finishes and details with us to keep the project on track.
We also meet with your builder's sub-contractors (think cabinetmakers, window and door manufacturers, and the air-conditioning guy) to ensure our design is as cost effective as possible. Again, you should not expect budget shocks here!
7. Your final contract price is tabled 
You sign your contract with the builder and construction kicks off – but what about variations during the build??? 
All those early discussions you had with us really pay off at this stage! Because you've been through such a thorough process with us, the risk of significant variations during the build is low. Our clients typically work to a margin between 2–5%, unless they choose to upspec or increase scope during the build. 
We're really excited about incorporating Procalc into our early design process. It helps us to check and ratify budgets without the need to use of third-party consultants in the early design stages. That means we can roughly test a design strategy, run the numbers and dismiss or refine that strategy based on what the numbers tell us. This refinement adds value to our clients and improves our process significantly.
The bottom line is, you can always be comfortable talking budget with us.
Design without constraints seems a little irrelevant to us (check out our Build Small, Build Well article to see how joyful the process of designing with constraints can be). Our design culture at Maytree Studios is that we respect your budget, take the time to educate you about what your options are and get the design within a manageable margin of your expectations.
We aren't interested in beautiful images that don't have a great client journey behind them. Real conversations and honest conversations about what it costs to build an architectural home are what you can expect around here.
Want to continue peeking behind the curtain of the architectural process?
We want more people to feel like building an architecturally designed home is within their reach… while also being really bloody honest about the fact that architecture is a process of constant compromise and exploration. Our mailing list gives you access to all the juicy stuff that's not on the Journal….
Sign up now to get our brutally honest reflections in your inbox four times a year. Or you can follow us on Instagram!