This blog is a tip of the hat to all of those people out there making homes 'work' that were designed for a different time.
  

Homes with limited storage, minimal to non-existent laundries and toilets that say 'hey look at me!'.

  

Homes that relied on a stay at home wife & mum to make it tick. 

 

We expect SO much more from our houses these days – they work for us, not the other way around!  Until I have finally stopped doodling on envelopes and commit to a renovation, this is a little insight into my life & the lives of so many Brisbane clients whose homes I visit pre-renovation. We want you to know that we see you 😉 So come pour a wine with me and check out the challenges (and joys) of a post war home!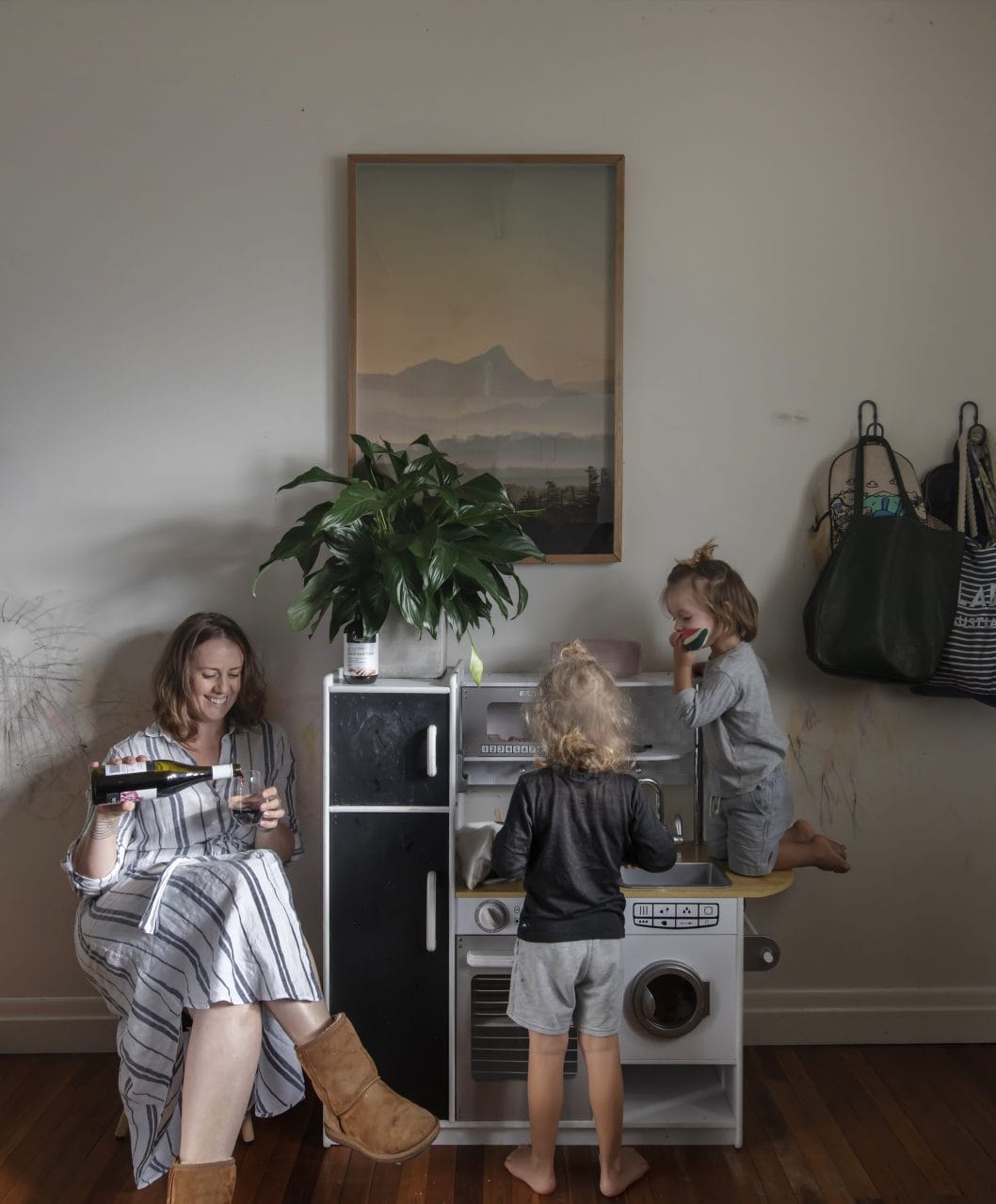 Connection to the Outdoors
The first challenge of the post war home is the distinct lack of openness to the outside.  This is the first and most delightful thing your well planned reno will buy you – connection to the outdoors!
Due to the post war austerity and significant government housing projects rolled out across Brisbane, suburbs like mine – Wavell Heights – were subdivided and populated with tile roof, weatherboard & brick homes.  But they are not without their charm!  We are massive advocates for renovating rather than demolishing these 40's & 50's shining examples of pragmatism & simplicity.
The first thing I'm going to fix?  And the first you probably want to as well?  Connection to the landscape & big generous openings that let you flow easily into the yard.  It isn't hard to achieve and with these homes usually sitting 600mm or more above the ground, you can be playful with how you achieve this.  Not just a deck, maybe a sunken lounge (or the perception of one!) or a ledge you can sit on and hang your feet over.  So many options!  I can almost feel the morning light streaming into my new living room….
The Sole (and all-too-public) Toilet
If you're a mum and you manage to poop alone, I salute you.  For the rest of us mere mortals, the peace and quiet of visiting a toilet is often interrupted by fights, requests for a drink, or worst of all, a desperate 4 year old who suddenly needs to go as well.
My toilet gets an honourable mention, because not only is it the centre of this family drama, it proudly sits at the end of the corridor that connects the entire home.  I guess in the 50's, these ivory thrones had only just made their way from the garden shed to the interior of the house.  Perhaps to the designers of the day, this feat of human ingenuity should be celebrated.  This .9 x 1.5m room framed as the epicentre of our little home.
What's my renovation going to fix?  A re-organisation of (asbestos ridden) walls to provide the privacy I so desperately look forward to.  Perhaps a second toilet?  In a home with 2 boys it seems crazy to not have one!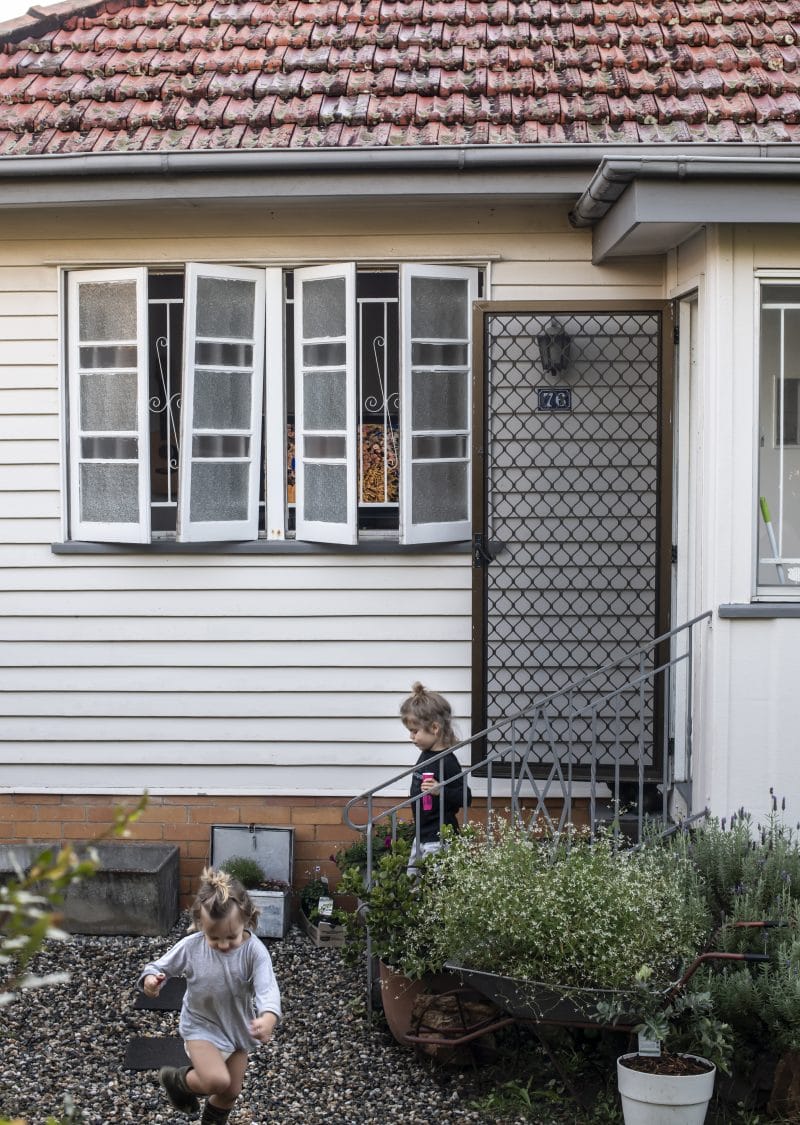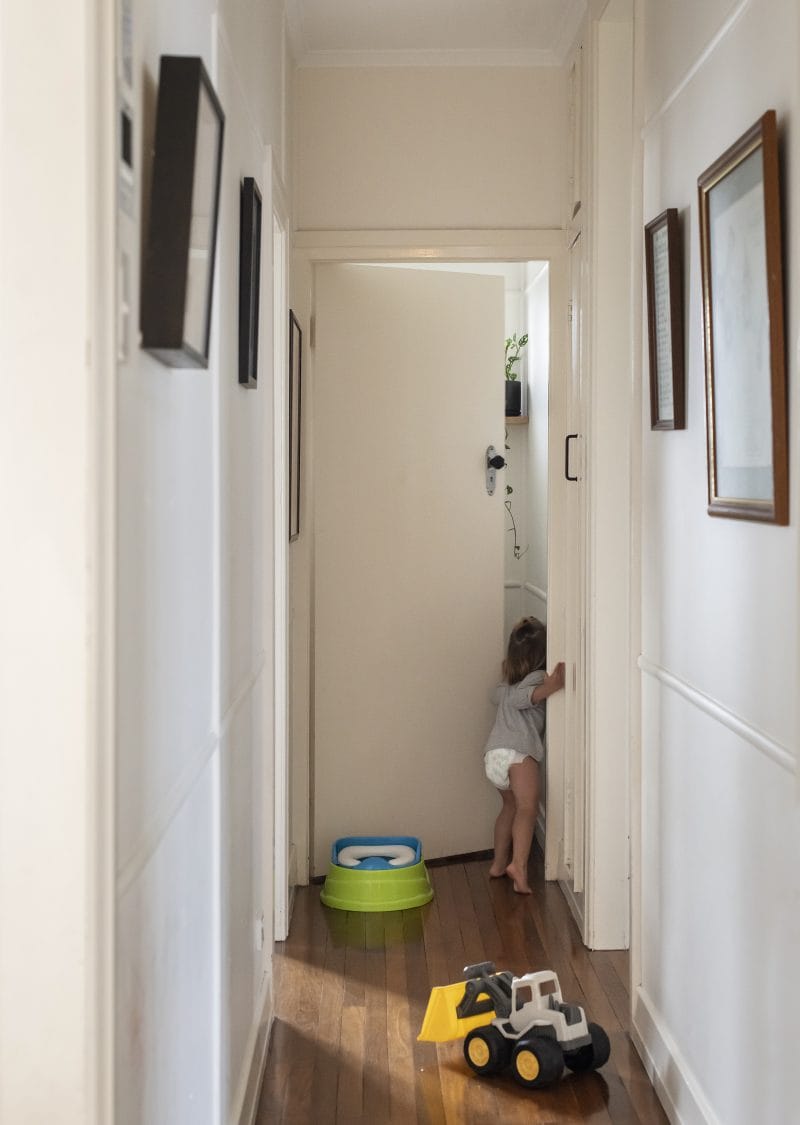 The Room that Does it All
Below is me, in my 'study'.  Which is also the kids playroom and – for three or four times a year – is the guest bedroom (I have a great fold out couch!). My boys share a room – something I'm keen to continue.  Not out of any high ideal, just a vindictive desire to make sure they suffer as I did.  So this third bedroom in our house caters for a whole lot of activity.
What will my renovation buy me? The pleasure of separating out these functions.  I will have a study nook (maybe even a study in time!), a small second living area and hopefully a guest bedroom in time (probably stage 432 of my reno).
This room (per my latest envelope sketch) will become the kitchen.  Once I figured that out, I put in ducted air conditioning to suit the future zones, rather than their current uses.  Getting an idea of where your renovation strategy is heading is a great way to start biting off small bits of your renovation as cash and emotional willpower allow!
Getting an idea of where your renovation strategy is heading is a great way to start biting off small bits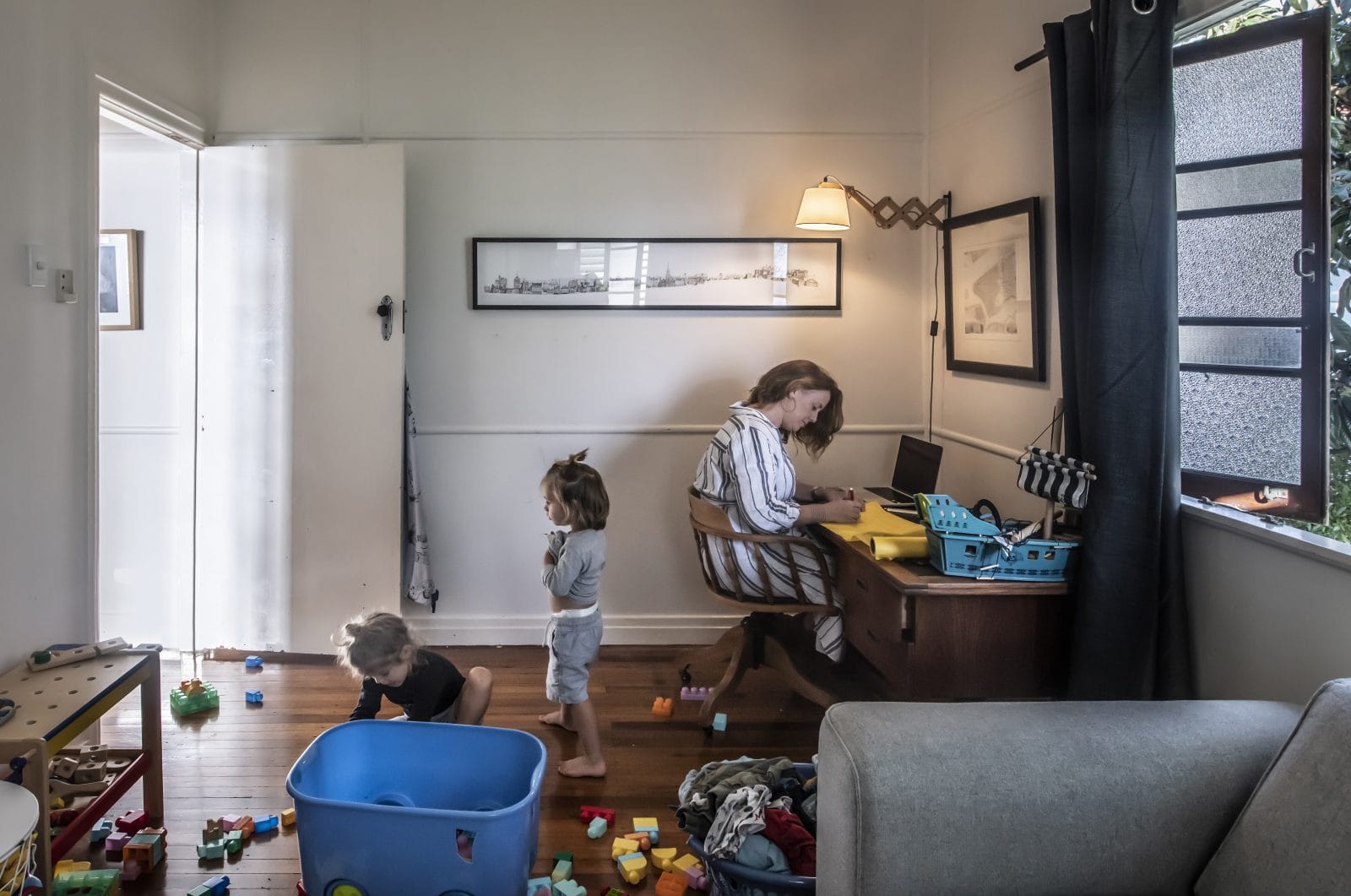 Walls, Walls & More Walls
We describe a home divided into individual spaces as being 'cellular'.  It's great in cold climates, where warming a room and not losing heat to others is important.  In Queensland? Not so much.
Now here's the rub.  I purchased this house very much in love with the traditional cornice, high scalloped skirting boards and the arrangement of these cellular 'rooms'.  I still enjoy these things. But I've come to realise these small openings make for an awkward dinner party! When I renovate, some of these walls will be thoughtfully removed to create a more open environment that lets the home breathe & share daylight from morning to afternoon.
The important tip here is not completely remove the arrangement of the old home.  You should still be able to read its character and the original layout of the house when you come in.  But I'm looking forward to less corridors and a home that facilitates the mad morning rush a little better!
The Laundry
Our clients are always split into two groups.  30% of them don't care if the laundry is in a cupboard. The other 70% have grand schemes for a haven of order & functionality.
If you live in a post-war home in Brisbane, you probably have a laundry stuffed into the undercroft of your house (that area between the floor and the dirt!), on your back verandah or in a small extension where your back stairs come up. This is where mine is.  And boy, does my laundry do some heavy lifting.  It has a washer, dryer, drying rack, dog food storage (and bowls), dog bed, child proof gate and our red-cycle recycling collection. Not to mention the cleaning products, odd drill & gumboots stored on the bench all in the size of a room I could definitely not swing a cat in.  And I'm not going to lie – this is the bit of the house that is really starting to get to me!
Whatever it is you want from your laundry, it can be solved.  For me, I'm opting for the euro laundry in or near the kitchen.  Given my laundry happens on the weekend, I enjoy the comfortable 'busyness' of it close to the kitchen.  I'm no Martha Stewart, I like this 'hub' while I cook & clean & wrangle the house back into some respectable order!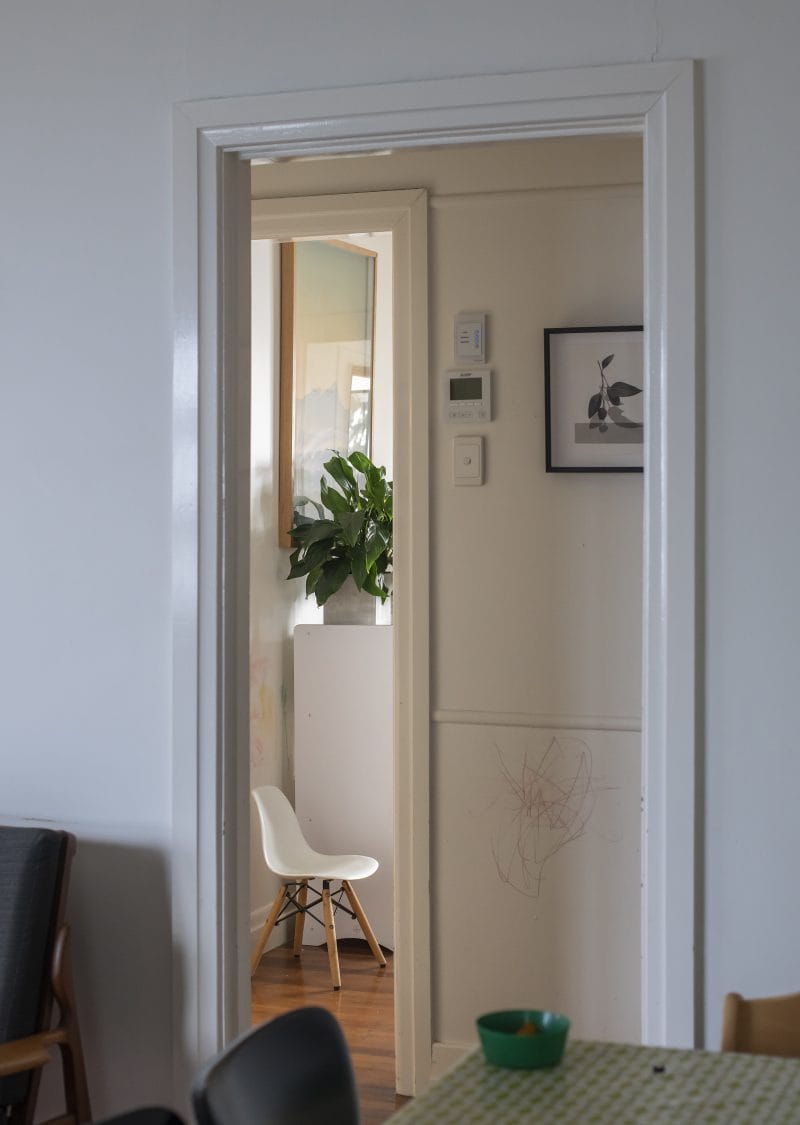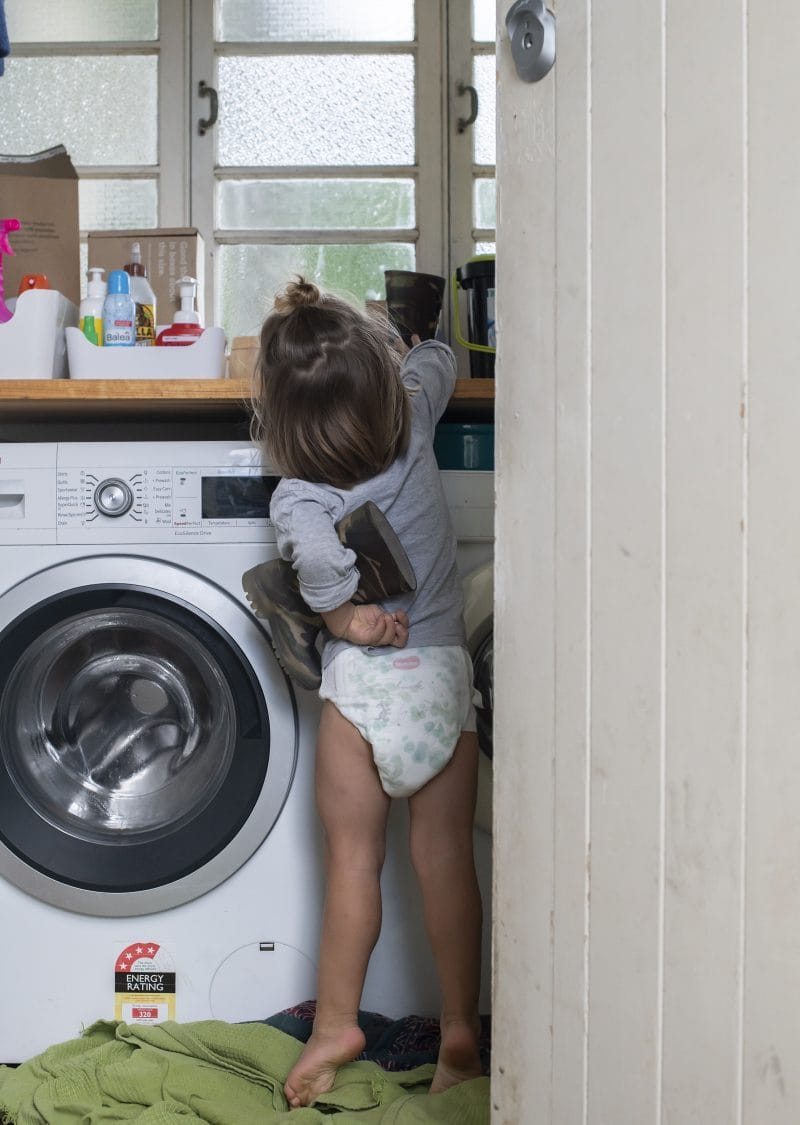 The Back Steps
Following on from the there, given we have no Outdoor Living yet, the back steps is where a whole lotta life happens (ice cream eating being of primary importance!).
These steps – like most of the homes we visit – are falling apart and in desperate need of repair.  A concrete block supporting step 2 is all that stands between us and a broken ankle. I figure the challenge of surviving these stairs is building resilience into my kids.
Needless to say, this fraught transition from house to ground will be one of the first things to go. But I'm putting off spending money on new steps that I will just have to move for the later additions.  In the meantime, these steps are my spot to take a book, enjoy some sun and watch the kids play in the yard.  It gives me a great clue for the kind of space I need in my renovation so that I don't lose the simple pleasure these steps currently bring me & the kids.
Thanks for taking the time to come see my place!
This is Part 1 of our 'Post War' Series – we will be updating this with blogs exploring the character we think matters in these homes & the ways in which you can improve them.  Until then, check out Raelene's Reno – a case study of the benefits of a masterplan in her post war home!
The Yard
Our house sits on a classic 650m2 block.  While it lacks the Hills Hoist, it has all the other characteristics of a block settled in the 50's from the fences, to the plant selection, to the lawn (read weeds) and the plain ol' simplicity of it all.  It is just a yard. I want a garden.
While I have great aspirations for my renovation, the thing I'm getting really excited about is my garden.  No home is complete without the garden it frames, relates to and enjoys. They talk to one another and the conversation at my place will not be complete until I have a lot less grass to mow, and a lot more lavender to prune! For most of our projects, the inclusion of a Landscape Architect is crucial to the project's success.  They understand what we're trying to do, what you hope to do and bring an incredible richness to the outcome.